Comfort Inn Monterey Peninsula Airport
Just a 5-minute walk from the Monterey Regional Airport
Kick back and enjoy the fresh ocean air when you stay with us here at Comfort Inn Monterey Peninsula Airport! Surrounded by natural beauty and offering convenient access to all the best local attractions, our hotel provides both comfort and convenience along California's rugged coastline. Learn about fascinating species of marine wildlife at the world-famous Monterey Bay Aquarium. For a fun day of outdoor adventure, step aboard one of the local whale-watching vessels and get up close and personal with some of our planet's largest creatures.
Of course, no trip to Monterey would be complete without tasting the amazing cuisine that the area is known for. Check out one of the many delicious seafood restaurants, or take a walk along Fisherman's Wharf and stop at the charming cafes that attract visitors from around the world. Those who are interested in shopping will love visiting the welcoming shops at Cannery Row.
Let's not forget about comfort and relaxation! Look forward to starting each day well-rested and finishing your evenings by dropping into bed on one of our premium mattresses. Remember those delicious restaurants we talked about? Well, all of our rooms come complete with a refrigerator and microwave to ensure that none of your tasty leftovers go to waste!
Business travelers will appreciate our complimentary WiFi, in-room work desks, and copy, print, and fax machines. When it comes to convenience, our beautiful property is ideally located near the Monterey Regional Airport. There's so much waiting to be discovered here at Comfort Inn Monterey Peninsula Airport, and we couldn't be more excited to serve you!
Clean and Comfortable Rooms
We understand that nothing is more important than having a comfortable place to relax when you're on the road and that is exactly what our accommodations provide! In addition to premium bedding and high standards of cleanliness, our rooms offer all of the convenience you need.
Check-In: 3:00 PM | Check-Out: 11:00 AM
1 KING BED ROOM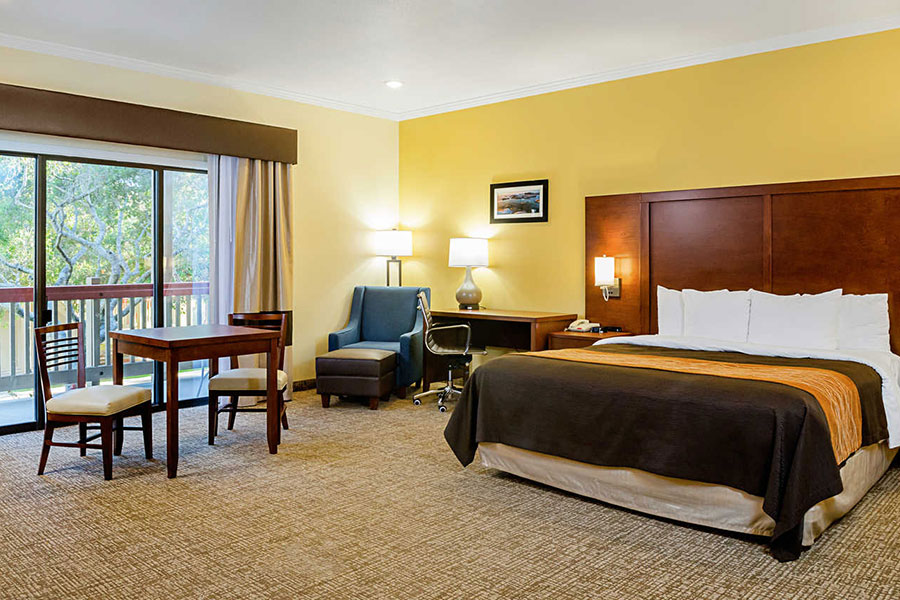 Our room with one king-sized bed is a great choice for couples who want to relax in comfort. In addition to our standard amenities, look forward to a spacious bed, fireplace, and balcony! This room also offers plenty of space to unpack your bags and make yourself at home.
2 QUEEN BEDS ROOM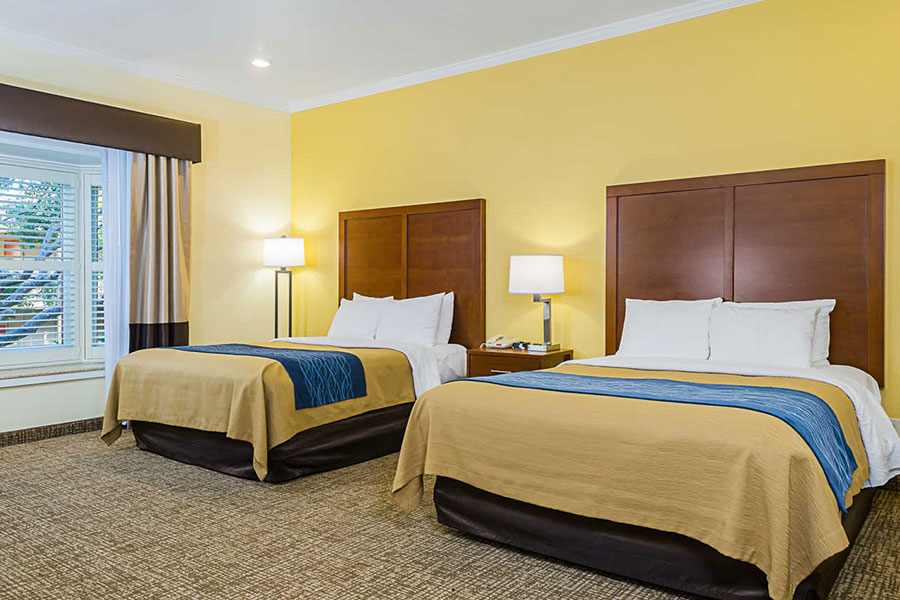 This room is ideal for families, friends, or those seeking to have some space. All of our amenities are included in this accommodation option, making it a great choice for leisure travel and business trips alike. Our room with two queen beds accommodates up to four guests. Available with or without a balcony.